Local Disposal Services Company in Johnston, RI. Offering Dumpster Rentals.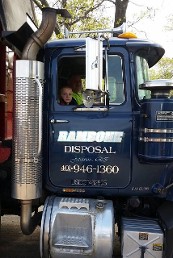 Providing quality service when you need it. Just turn to Rambone Disposal Services, Inc., a disposal services company in Johnston, Rhode Island. Our company has the rental for you when you need it. Check out our FAQs if you have any questions about our stationary compactors, roll-off containers, or disposal services.
Rambone Disposal Services, Inc. has been faithfully taking care of our customer's disposal needs since 1910. We have worked hard for the great reputation that we have in Rhode Island. We provide both temporary disposal services or long-term contracts.
Most of the other disposal companies are huge conglomerates. They have fleets of trucks all run by some distant corporate office. We run our business right here in Rhode Island. When we need something done, we do not send memos, we just do it. When there is a decision to be made, we do not call a meeting, we just make the decision.
We treat our customers like people and not numbers. We believe that service is a way of life and not just a word. Our approach has worked for four generations. We see no reason to change.
Container & Trucking Services
Waste, Garbage, & Rubbish Removal
Construction Roll-Off Specialists
Commercial Recycling Services
Residential Services
Family Owned & Operated
Stationary Compactor Service
Temporary or Contractual Service
Contact us in Johnston, Rhode Island, and we'll deliver the dumpster rentals you need when you need it.